KI TENNIS REMOTE TRAINING SYSTEM

What is it?

A personalized tennis specific assessment performed by our experts at the Institute who will listen to your needs and help create your personalized and customized program that adjusts to your schedule. All online!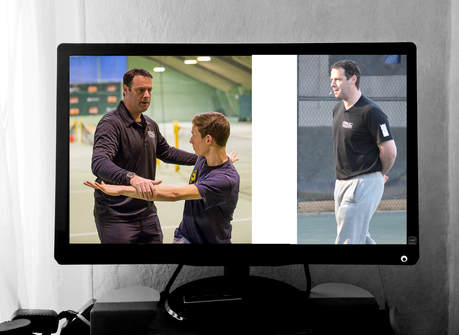 Peace of mind that you're doing the right things to get the best results for your body and your tennis game


Formally only in-person KI assessments have been available. This is your chance on a VERY LIMITED first come, first served basis to receive world class online tennis fitness programming from the experts at Kovacs Institute, including world renowned Dr. Mark Kovacs.
Through our systematic and scientific approach to optimizing tennis specific training, Kovacs Institute has trained over two dozen top 100 ATP and WTA tennis professionals, hundreds of individuals that have won gold balls, national championships and collegiate titles. How YOU have unique access to learn from the best to help you become the best tennis athlete you can be.
THE KI REMOTE TRAINING SYSTEM IS AN EVIDENCE BASED PROGRAM FOCUSED ON IMPROVING YOUR ENTIRE KINETIC CHAIN, WHICH WILL STRENGTHEN YOUR PERFORMANCE.
---
What is the Process:

SIGN UP TODAY!

Click this link to go to our Remote Training System website to sign up to purchase your personalized program. Once you complete your order, you will receive detailed instructions about the information we need to build your Player File, and how to go through your step-by-step self-assessment at your home court and record and upload information to begin your journey with us here at the Institute.

The Tennis Fitness RTS program is based upon our unique KI Self Assessment. This involves a series of exercises that you complete at your home location which provides a complete snapshot of your strengths and opportunities for improvement. Based upon your unique results this will allow our team of experts at the Institute to personalize a training program specifically for your needs, and will be uniquely designed to help you improve your tennis training. This is a very similar process that we use with our top professional athletes who may be traveling 40 weeks of the year.

We will send you a list of 11 assessments which all include video instructions and should take you less than 30 minutes to complete. (Self Assessment, Single Leg Squat, Overhead Squat, Closed Fist Shoulder Assessment, Lying Hamstring Assessment, Horizonal Jump, Single Leg Lateral Jump, 20 Yard Sprint, 5 Ball Pick Up, 30 Second First Step Test, and Lower Body Isometric Assessment).


CHECK IN AND FOLLOW UP

You'll immediately get to work on a fully personalized tennis fitness program designed using the same system and methods that have helped train thousands of top professional, collegiate and junior tennis athletes. The information has helped to educate coaches and trainers in over 40 countries; the Institute is the leading source for tennis specific education and training. Your program will be fully customized — how much, how hard, and how often will be based around your goals and lifestyle. Our unique online platform, designed by world renowned Dr. Kovacs and the team at the Kovacs Institute, will be with you every step of the way. Each workout, set and rep will be delivered to your phone, tablet, ipad, laptop or desktop computer to ensure you know how to perform each exercise and to track your progress to ensure results.


GET IN THE BEST TENNIS SHAPE OF YOUR LIFE!

Why Should You Purchase the KI Tennis Remote Training Program?



ONLINE and CONVENIENT.

For the first time, the Institute offers customized tennis fitness training programs through our world renowned experts. Players around the world now have access to the pro-tour proven methods that will improve their game!

Access to Dr. Mark Kovacs, who previously only works with professional athletes, world class executives and organizations.

PROVEN results. We guarantee you will get better with the KI remote training program.

100% MONEY BACK GUARANTEE!
IF you are aren't satisfied for any reason, we will refund your money. What do you have to lose?

ORDER TODAY and take your tennis fitness training to the next level.



KI REMOTE TRAINING SYSTEM MORE INFORMATION FORM

Fill out this form if you have questions on our remote training system. Please visit our full site
HERE.